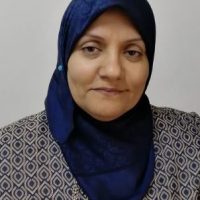 Enas Jaafar Jawad
University of Baghdad/ College of Education for Women/ The Department of English Language.
Jolting the Sleeping Conscience in Judith Thompson's Palace of the End.
Abstract:
Though dedicated with an apology to the Iraqi children who witnessed and "endured unimaginable suffering for so very long," yet Judith Thomson's Palace of the End never proposes rising the audience's sympathy.
Thompson (b. 1954), presents a monologue or soliloquized drama by the three characters, none of which is heroic or main character, who might be recruited in this disastrous posture of events. In the victimization route of the overwhelmed Iraqi people, individual conscience is seemingly jolted through different psychological and spiritual attempts, sometime strikingly and at other times so peacefully. The three monologues are entitled in accordance to the particular state that each character has witnessed or overcome by.
The play, performed in 2005, shows how the victimizers and victims in the Iraqis-suffering image perceive, reveal and philosophize their own view of conscience. The playwright attempts through these revelations to jolt the public conscience on the real wrongs done to the Iraqis under the reins of the inner and cosmopolitan struggles.
Keywords: Abuse, conscience, language, monologue, psychopath, rape.