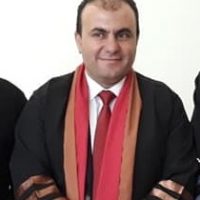 Jamal Anwar Taha
-2019 PhD in Applied Linguistics(Corpus Linguistics) in my dissertation focused on Kurdish EFL learners' problems of modification in their written English using learner corpora as part of Corpus Linguistics.
-2014 Fulbright Certificate in Applied Linguistics- Organized by prestigious Fellowship of Fulbright Program at Salem State University and Northeastern University/Salem and Boston/Massachusetts/USA
-2011 MA degree in English Linguistics – Theoretical Linguistics(Spatial Preposition in English- A Cognitive-Semantic Study (specialized in English Linguistics) at Koya University – Erbil – Iraq.
-2008 BA degree in English Language and Literature at Koya University.
-2000 Diploma degree in Central Teachers' Institute of Erbil – English Department.
-Another academic achievement is meeting Noam Chomsky for an hour in Massachusetts Institute of Technology (MIT) and we discussed linguistic theories.
 . 2000 Teacher of Primary schools.
• 2001-2002 Teaching in Primary and Intermediate
Schools simultaneously.
• 2003-2004 Teaching in Primary, Intermediate and
Secondary Schools simultaneously.
• 2004-2007 Teaching in Evening Secondary school.
• 2008 Researcher in Dept. of English/College of Languages/Koya University.
• 2008-2009 Teaching English in Dept. of Arabic & Dept.of Physical Education/Koya University.
• 2011-2013 lecturing at Koya University/English Dept.
• 2011-2012 lecturing at Sulaimani University/College of
Languages/Evening classes
• 2012-2014 lecturing at University of Human
Development/English Dept.
• 2013-till now lecturing at Sulaimani University /College
of Basic Education/
Dept. of English
• 2014 Fulbrighter to Salem State University and
Northeastern University in the USA.