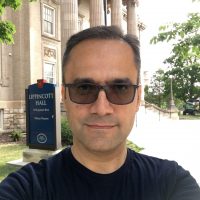 Dr Shaho Saeed
Assistant Professor / PHD in Philosophical Criticism and Arabic Literature
Shaho Saeed is an assistant professor of Modern Criticism and Arabic Literature. He has experienced in teaching, translating and researching since 2000. His areas of interest include literature, comparative studies and critical thinking. He holds a Ph.D. in Modern Criticism, M.A. in Comparative Literature and B.A. in Theology and Islamic Studies.
Shaho is a Fulbrighter and Hubert H. Humphrey alumnus of the Pennsylvania State University (2018-19) in the field of educational administration and Critical Thinking. During his Humphrey year in the United States, he had two intensive professional affiliations at Georgetown University as a visiting researcher and the Schreyer Institute for Teaching Excellence as a critical thinking researcher.
He has also a political and legislative background. In 2009, as a founding member, principal author and the first spokesman of the Change Movement, he was elected as a Member of Parliament and Parliamentary Committee for Culture and Archeology in Iraqi Kurdistan. In 2010-11 he was assigned as a member of Kurdish negotiation delegation in Baghdad for the formation of Iraqi government.
Shaho Saeed is the author of two books, eight book chapters, and seven academic articles in Arabic language. As a translator and journalist, he has served as a member of the Editorial Board of Sardam Magazine for foreign culture, columnist in Awene Newspaper, participant in several media programs and the head of Arabic division in the Voice of Kurdistan People.
He has given lectures and talks to Arab, Kurdish and American students and audiences in multidisciplinary areas, from criticism to Arabic Literature, passing through critical thinking, philosophy, and political thought. He was awarded the first prize of Galawezh Literary Festival in 1999 and the first prize of the Ministry of Culture Festival in Iraqi Kurdistan in 2005.