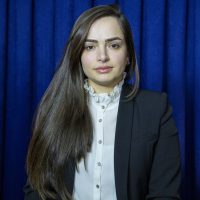 ‪Kizhan Salar Abdulqadr‬
Assistant Lecturer / MSC in English Literature
Ms. Kizhan Salar is an Assistant lecturer in Komar University of Science and Technology (KUST) for nearly three years. She had taught Academic English I, Academic English II and worked as a senior coordinator for the presidency office. She was a member of Quality Assurance and the Examination Committee.
Prior to joining Komar University, she worked as a librarian at National Taipei University of Technology and an instructor in Joy Enterprise Organization in Taiwan.
She worked as a trilingual interpreter (Chinese, English and Kurdish).